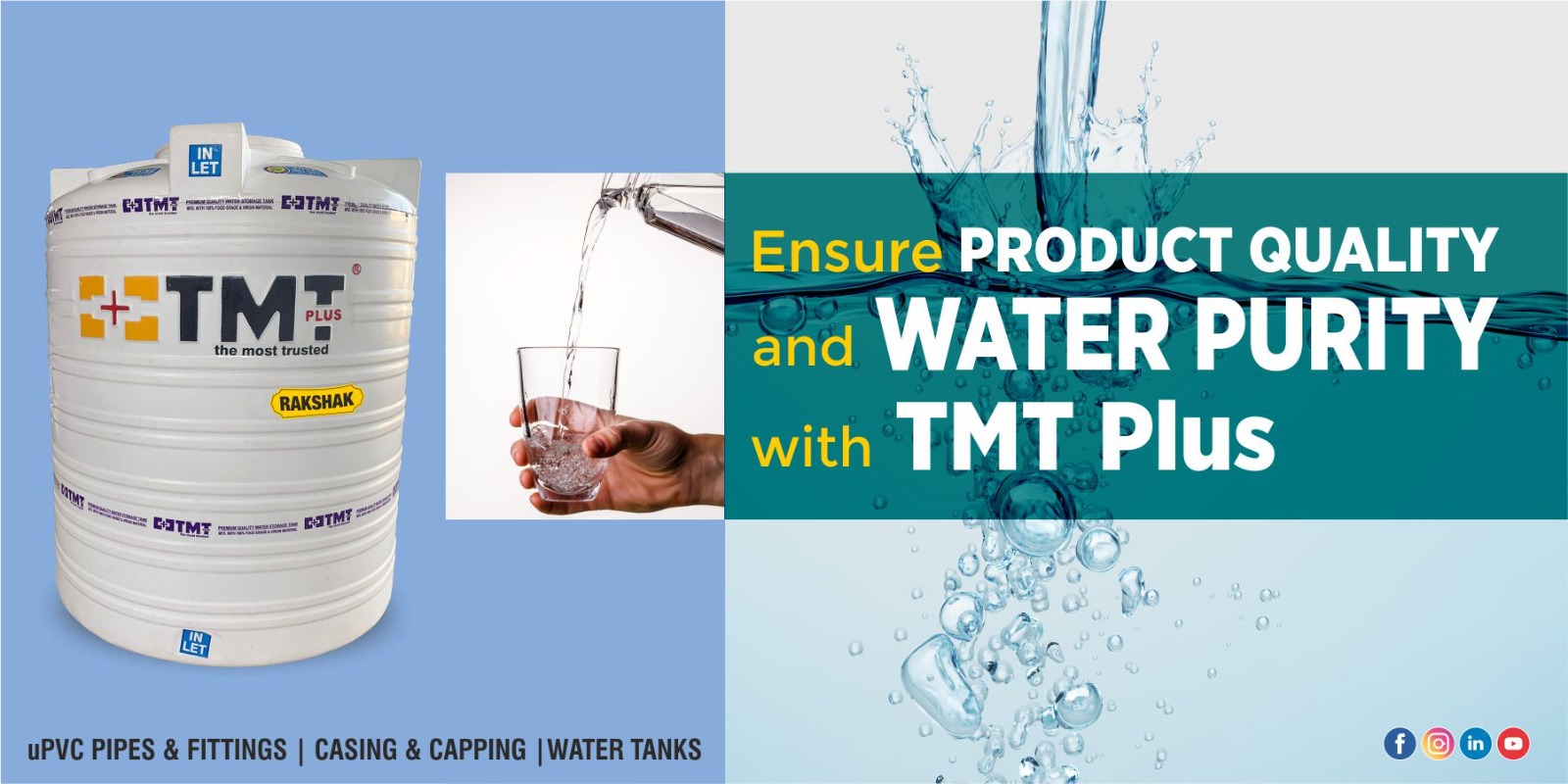 Water tanks are the most essential component in any modern building complex or household. They are available in various shapes and sizes and are made of different materials depending on our needs.
We at TMT Plus understand that it gets quite overwhelming when it comes to choosing the best water tank manufacturer in India to pick out a water tank. Hence, we have narrowed down the research and made it easier for you to choose the one that fits the best with your needs.
What are Water Tanks?
A water tank is basically a container designed to hold and store water. It can be made of a variety of materials and can be used for both residential and commercial purposes. They are available in different sizes and shapes, ranging from small ones that can hold a few litres of water to full-size ones that can hold thousands of litres of water.
In places where water scarcity is a major concern, water tanks can collect the rainwater and later make it usable for purposes such as drinking, irrigation and watering plants.
Types of Water Tanks
3-Layer: TMT Plus is the best water tank supplier in India and its 3-layer water tanks include three layers of polymer for maximum impact strength. A carbon black intermediate layer, in addition to the dual layer, restricts the entry of harmful UV rays, resulting in a longer life. These tanks are weatherproof, lightweight as compared to concrete tanks and keep the water fresh.
4-Layer: A greater dose of Polyurethane Foamandis has been added to this 4-layer water tank to create more insulation, which is also backed up by a carbon black UV-protecting layer. When the exterior temperature exceeds 45 degrees, this helps to keep the water temperature stable. Furthermore, this water tank has a rugged design, is lightweight, is weatherproof and keeps the water fresh.
5-Layer: Because of its distinctive dual foam layer, which ensures double insulation, the 5-layer water tank has a greater capacity to keep water cool in the most extreme climatic circumstances. Aside from that, it is durable, economical, weatherproof, leakproof, unbreakable and has a rugged design.
7-Layer: The TMT Plus 7-layer water tank is UV stabilized, shielding it from the sun's harmful rays. It is antibacterial, antioxidant, and carbon-protected due to its seven layers. Aside from that, the tank has a long life, is cost-effective and durable, has a uniform wall thickness, and its anti-bacterial layer helps in the preservation of fresh water.
What Makes Water Tanks by TMT Plus Stand Out?
As the leading water tank manufacturing company in India, TMT Plus offers water tanks that are manufactured using rotomold technology through an automated process using 100% virgin raw material (LLDPE). The materials used to make these high-quality water tanks are 100% virgin, food-grade and stabilised for heat insulation. Most importantly, all its water tanks have an airtight lid, which helps prevent contamination of the water and keeps it fresh.
Besides that, all these tanks share a few common features like being weatherproof, airtight, UV stabilised, durable, economical and more that make them the best in the market. So buy a TMT Plus water tank according to your needs today and ensure the purity of your water with a superior quality water tank.