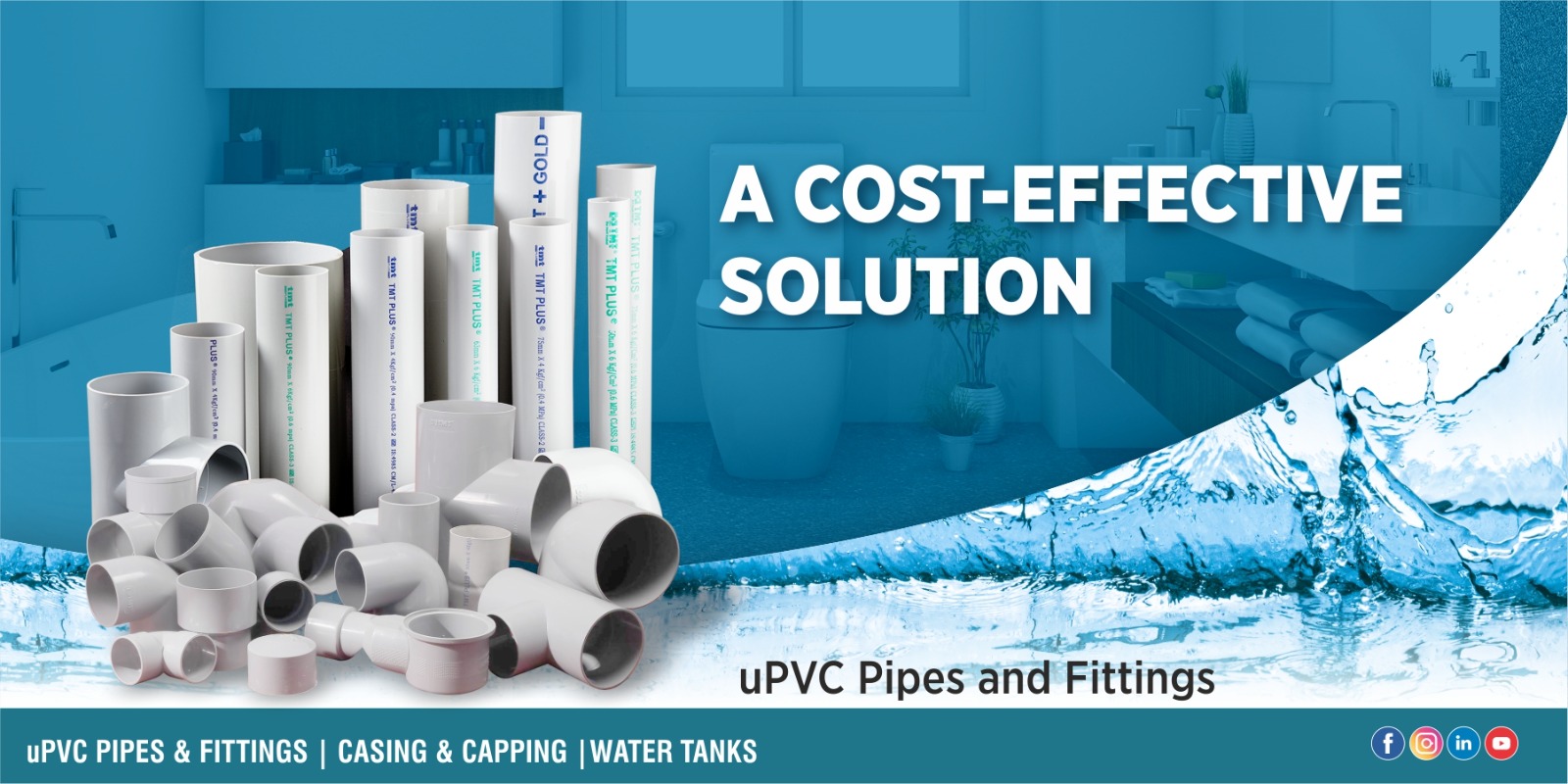 Homes are not just made of bricks and materials but rather of hopes, dreams and hard work. But when we are in the process of making the home of our dreams, we want it to be filled with the best amenities and equipment. So, why not use the best pipes to ensure that your house is leakproof?
Water is essential for our daily needs and we need pipes to safely transfer it across our house. But what kind of pipe is the best option? uPVC pipes are usually the go-to option and one of the most commonly used pipes and fittings for water supply due to the several benefits they offer. Being one of the leading manufacturers of uPVC pipes, TMT Plus offers these uPVC pipes and fittings that are made using the best PVC material.
Why are uPVC pipes more durable than Steel Pipe?
At first instinct, people would consider going for steel pipes over uPVC ones, thinking of the latter as plastic. But uPVC pipes are a better option and have more advantages over steel pipes, as, for one, they are lighter.
The steel pipes corrode, rust and break down quickly, which can result in leaks, while the uPVC pipes do not rust or corrode, which reduces the requirement for solvent cement for a pipeline by almost 50%.
Aside from that, being resistant to rust and corrosion makes these pipes incredibly sturdy and last longer than steel pipes, making them more cost-effective. These points and more make uPVC pipes a better choice than steel pipes.
But what makes these pipes by TMT Plus stand out?
These uPVC plumbing pipes by TMT Plus are the best solution for leak proof and uninterrupted water supply and have been carefully manufactured only after thorough research. The research is backed by customers' problems and various tests on impact, bust pressure, flattening and dimensions in strict accordance with BIS specifications to create the best product.
Besides that, these pipes are non-toxic in nature, chemically resistant, have a smooth inner surface, are unaffected by fungi and bacteria, are corrosion-proof, cost-effective, U.V. stabilised and light-weight yet strong.
Also, these pipes are manufactured in TMT Plus state-of-the-art manufacturing plant that helps ensure that the company delivers on the quality it has promised its trusted customers. Having built a noteworthy reputation over the years, TMT Plus envisions a future where its affordable, best class polymer products are available to all through constant advancement in the production process.
At the end, with these quality pipes and the many advantages they offer, there's a reason why uPVC is so popular and why TMT Plus is one of the leading uPVC pipe and fitting manufacturers in India. The nature and quality of these uPVC pipes and fittings not only guarantee durability and longevity but also make them a cost-effective solution for sustainable future development. So, find a friend for your house in TMT Plus and get the best cost-effective solution for leakproof and uninterrupted water supply.