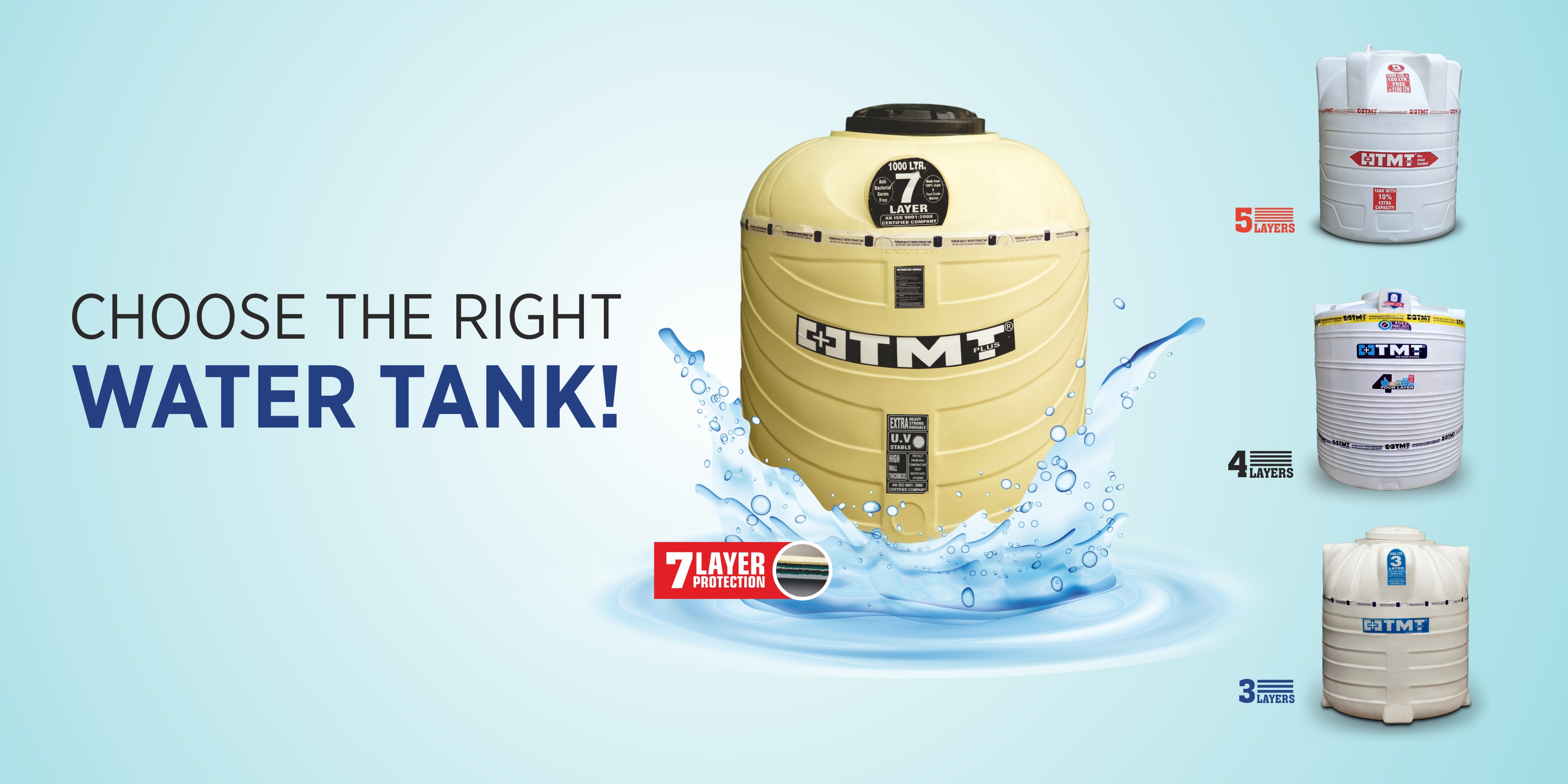 Since the problem of water scarcity is scaling every year, in such conditions, all types of residential and commercial constructions must have a water storage option. Are you trying to figure out what sort of water tank to put in?
With this question in mind, continue reading to discover which water tank is perfect for you.
You need to know your needs in order to choose the
top water tank brands in North India.
When choosing a tank, keep these considerations in mind.
Before purchasing a water tank, there are a few things to keep in your mind.
First and foremost, do not make any compromises and then consider the factors listed below to choose the best one from the best Water tank manufacturers in Haryana for your needs.
Capacity: This is dependent on how many people use water for all of their daily requirements, including drinking, cooking, cleaning, and washing. In India, a normal household of four consumes around 650 gallons of water each.
Installation: Water pressure is affected by tank location, which may impact the water delivery. Additionally, before you begin installing anything, make sure you have a level, even foundation, as instructed in the installation instructions. But the Overhead tanks are installed to meet daily water requirements.
Layers: The quantity of layers assists you in selecting the best water tank. There are water tanks with double and triple layers and some with more than three layers. Tanks with three layers are ideal in the majority of cases. Most of us use overhead tanks, so we need UV protection which they provide.
Water quality: You must select the brands like TMT Plus which makes plastic Toxin-free that is used to make drinking water storage tanks since it is considered safe for water storage.
Durability: To withstand temperature fluctuations and climate shifts as well as the danger of monkeys, water tanks and their lids must be sturdy and robust. Another important function of the water tank lid is to prevent dust and other pollutants out of the tank.
Shape: There are many different shapes and sizes of water tanks to choose from. As long as you're free to choose the tank of your preference, you should consider the quantity of room it will take up. Tanks that are square or rectangular may be tucked into a corner to save on floor space. However, cylindrical tanks are good for large areas.
Aesthetics: In the process of remodelling or creating a new house, architects have an idea of what they want it to look like. In terms of aesthetics, white tanks are a great option.
Colour: An important factor in algae growth prevention in water storage systems is colour. Having a dark coloured opaque covering in the tank is required to prevent light from entering the tank and causing algae to develop in the tank.
Warranty Period: More confident you may feel if the warranty period is long enough. Like TMT Plus, which provides its clients with a 5-year warranty. Consider purchasing a water tank from a company that offers a long-term guarantee.
Price: Before making a purchase, compare the prices offered by several water tank suppliers in the business. You will end up spending a lot of money if you cut corners on quality.
Ponder these important factors when purchasing a water tank for your home. To keep the water safe for health, cool, and clean while also safeguarding it from changing environmental circumstances, you must choose a water tank. Choose a company that prioritizes the needs of its customers and complies with industry standards.
Tips for cleaning and maintaining plastic water tanks:
It's simple to treat your water tank storage solutions, but regular maintenance can help you avoid problems like sediment build-up and algae growth. Sediments are a breeding habitat for harmful bacteria, posing a health danger. TMT Plus suggests inspecting your water tank every six months. This, together with a professional cleaning and sanitising at least once a year, will lessen the possibility of any difficulties. The cleanliness of the water is influenced by where it is stored. Water tanks in single-family homes and apartment buildings should be cleaned and disinfected at least twice a year to reduce pollution and promote good health.
To thoroughly clean the tank, remove all of the stored water. Try to put it to good use rather than wasting it.
Get rid of any debris or sediment in the tank by giving it a good scrub. You may use chlorine or liquid detergents to get rid of stains and germs.
Close the storage tank properly to keep out pollutants and rubbish. Regularly, inspect your pipes for signs of leakage and get them repaired as soon as feasible.
For a quick fix, use a solution of detergent and hot water to scrub and clean the tank's inside surfaces (home laundry soap powder would do).
Maximum Flow Inside: UPVC pipes have a smooth surface. This reduces internal friction and allows water to flow freely and quickly.
TMT Plus manufactures a wide range of water tanks in a variety of designs.
Using 100% virgin, food-grade, UV-stabilized, and airtight materials, TMT Plus's Water tank manufacturers in Haryana ensure that the water they contained in TMT's Water tanks is the purest possible.
3 Layer: Three layers of polymer are used for optimum impact strength, and a carbon black middle layer is added to the dual-layer construction for additional UV protection. This helps to prolong the life of your TMT Plus storage tank.
4 Layers: A higher dose of Polyurethane Foam is added to the TMT Plus 4 layer water tank to provide better insulation, which is further supported by a carbon black UV protection coating. When the ambient temperature rises over 45 degrees Celsius, this configuration assists in keeping the water temperature stable and comfortable.
5 Layer: As a result of its unique Dual Foam Tank, which ensures Double Insulation, the 5 layers TMT Plus water tank has a greater ability to keep water cooler even in the most extreme climatic conditions, such as at 48° Celsius. As a result of the top High-Definition cover layer, this tank is resistant to ultraviolet light. Because of the five layers of this water tank, it is more durable and long-lasting.
7 Layer: It is commonly recognized that TMT Plus 7-layer water tank is the best quality water tank in Punjab. Because of the seven layers, it has anti-microbial, anti-oxidant, and carbon protection properties.
Conclusion
Purchasing a water tank for your home or business is a significant investment. It requires a great deal of thought and research. As a result, it's important to take things carefully and make a choice that will be completely advantageous. While purchasing a water tank, all the above factors should be kept in mind. Choosing the tanks from the Best water tank supplier in north India becomes easier. TMT Plus' has the best range of residential and commercial water tanks. And the greatest part is that TMT plus prioritises health above anything else. Plastic water tanks by TMT Plus are the most precedence option in the leading market. These tanks are available in a surfeit of sizes and styles, including overhead tanks and many more. We make sure to deliver durable, reliable, safe and sustainable water storage solutions for residential, commercial, and industrial applications.