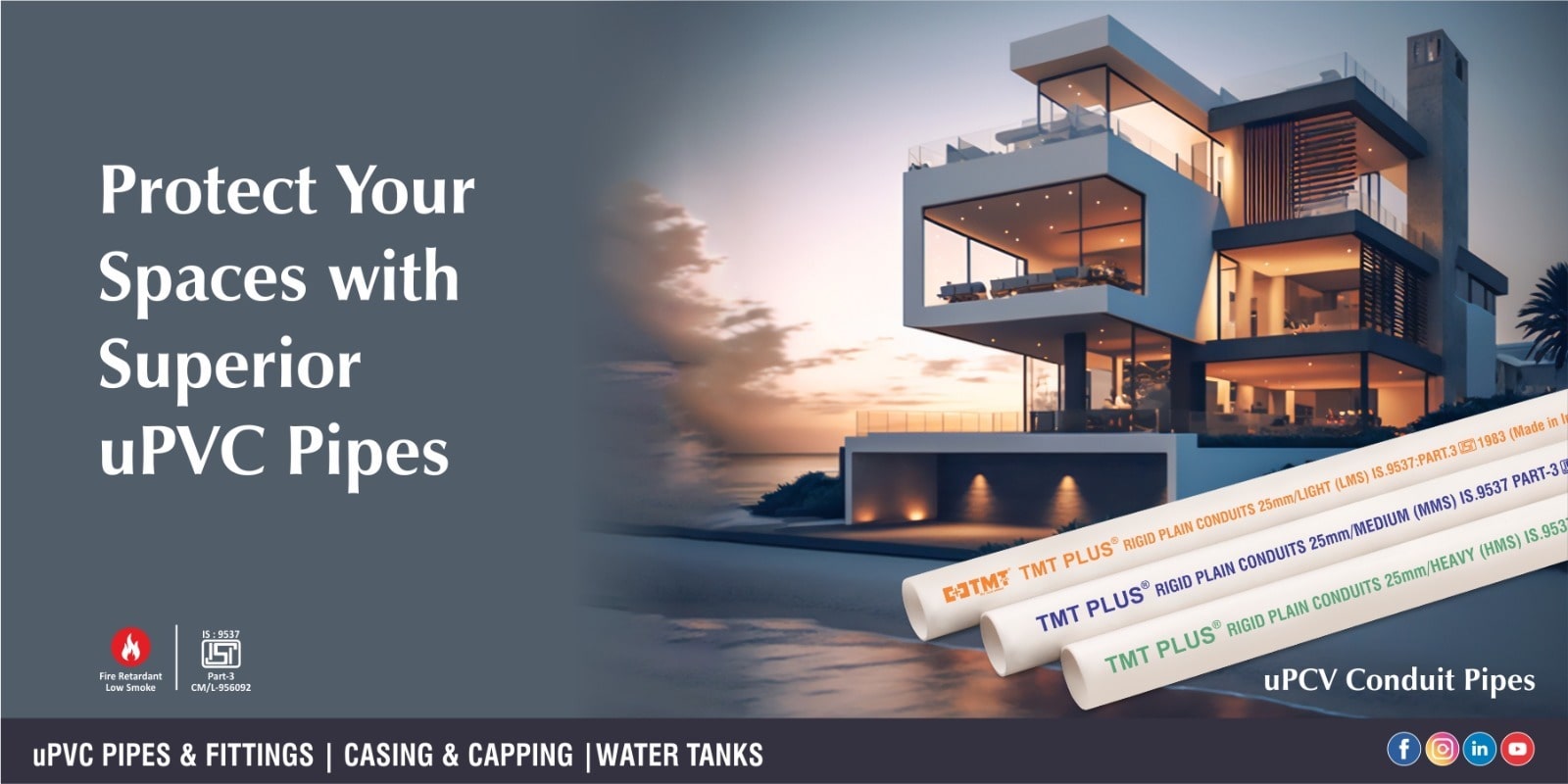 Electrical safety is of utmost importance, whether it comes to a space that we live in or a space where we work. So having high-quality conduit pipe from the
best uPVC conduit pipe manufacturers in India
is essential for electrical safety. But do they disrupt the look of the space? In this blog we try to understand how the new pipes that embrace safety in style seamlessly transition to add to the aesthetics of your residential and commercial spaces.
How Safety Meets Quality?
The world is gradually shifting to a more sustainable strategy in order to have a positive impact on the environment. This is true even for one of the most important components of safety in both residential and commercial spaces, i.e., Conduit Pipes. Though steel and metal pipes have been used for a long time, people now prefer going for pipes made from uPVC material. This is because pipes made from uPVC material are more durable and economical than both steel and metal. TMT Plus offers the
best electrical pipe for house wiring
 and presents you with its uPVC conduit pipes that are manufactured using the highest quality material. These pipes come in a variety of colours and dimensions that complement your spaces and enhance them visually while providing safety.
 What Sets TMT Plus Conduit Pipes Apart?
High-Quality Material:
The TMT Plus conduit pipes are made using high-quality uPVC material. This quality ensures that pipes will last for a long time without the need for regular replacements.
Resistance Factor:
These pipes are resistant to fire and weather and are UV-stabilised. Having such great resistance qualities ensures that these pipes are suitable for both indoor and outdoor applications.
Durability:
Being made from materials of the highest quality and having incredible resistance factors ensures that these pipes are durable for the long term.
Easy-to-Maintain:
These uPVC conduit pipes are not only easy-to-install but easy-to-maintain as well. Its resistance factors ensure that your pipes don't need regular replacements.
Commitment to Sustainability:
TMT Plus is committed to moving towards the same goal by providing its customers with uPVC conduit pipes that are not only sustainable but also a better option than steel or metal pipes.
 Integrating These Pipes in Your Spaces
Colour Options:
These conduit pipes and fittings come in various colour options that easily go hand-in-hand with the colour of your space. The variety of colours allows them to complement the design of your space rather than stand out on their own.
Dimensions:
Along with a variety of colours, these pipes also come in a variety of dimensions. These various dimensions allow the pipes to cater to your design requirements and maintain the visual aesthetics of your home.
Aesthetic Design:
TMT Plus pipes are crafted in such a way that they integrate seamlessly into your architecture without displacing any of its aesthetics. This is further helped by the variety of colours and dimensions that these pipes come in.
The Perfect Fusion of Style and Safety with TMT Plus
TMT Plus is one of the
best electrical conduit pipe brands in India
and offers uPVC conduit pipes that provide the best solution for the protection and routing of electrical wiring in both residential and commercial settings. These pipes are made using the best materials and come in various colours and diameters. Being made using the highest quality material, these pipes have features that make them the best in the market. Besides that, these pipes have incredible mechanical strength, which includes high impact strength, high order flexibility in bending, excellent rigidity, resistance to crushing, high impact strength and more. Over the years, TMT Plus has built a reputation by gaining the trust of its customers by providing them with quality and durable products. This fusion of safety and style, with all its products, ensures that you can protect your spaces while maintaining their aesthetics. So install these pipes today and enjoy the perfect fusion of style and safety.