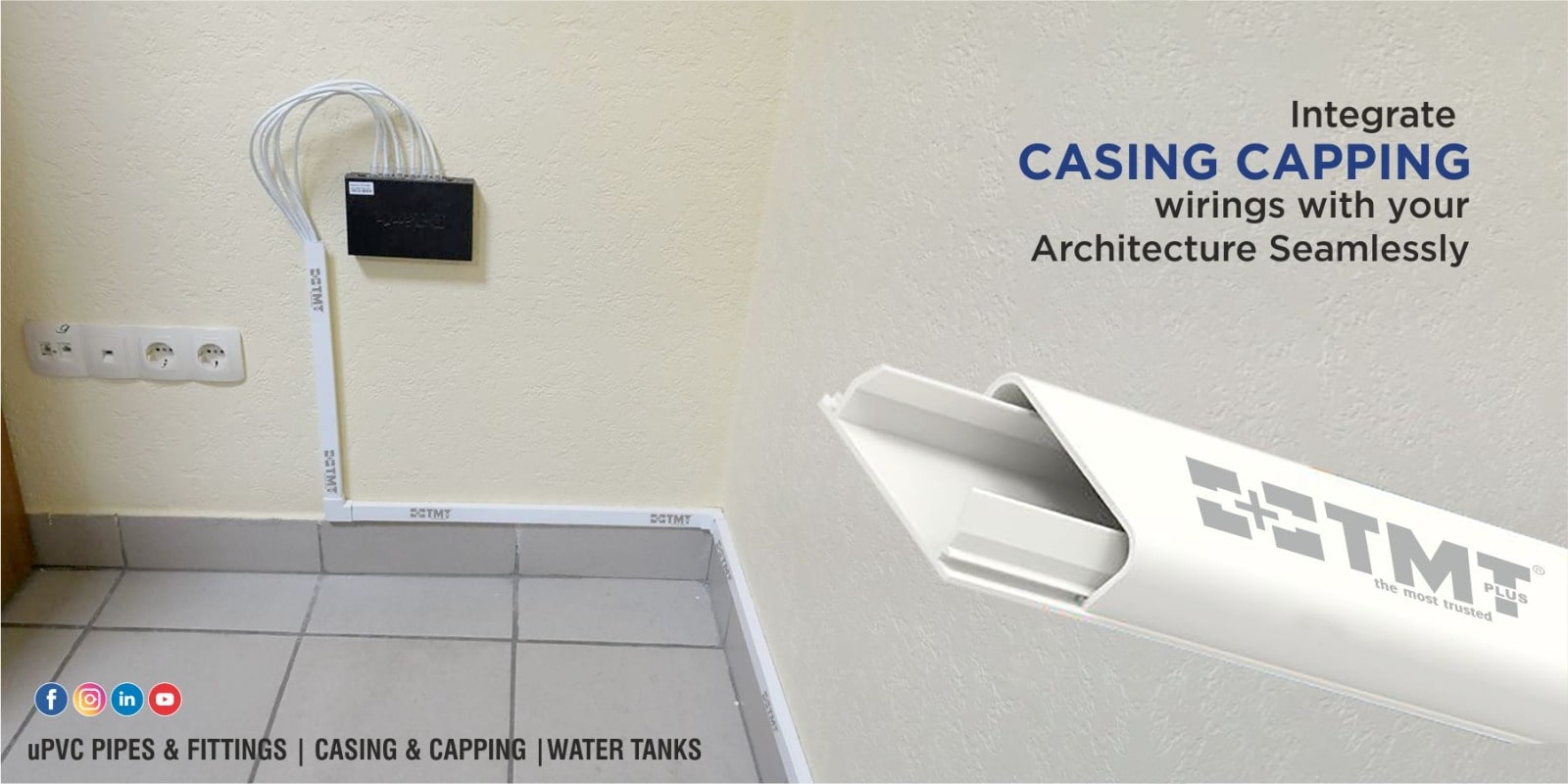 Wires or cables need a layer that provides good insulation and longevity for their usage. The insulation also provides a protection mechanism for us from the dangers of electric shocks that the naked wires possess. Casing and capping is one such technique to do this.
What is Casing and Capping Wiring?
PVC casing and capping is a rectangular strip where the wires are placed inside, covered with a cap and then installed in a building, providing a protective structure. Apart from safety, this method ensures good usage of the space and with the availability of casing in different colours, the aesthetic appeal of the place is enhanced.
Applications of Casing & Capping:
1.Open Wiring in Residential and Commercial Buildings:
In contemporary designs of buildings, casing capping for wires is ubiquitous. This has multiple benefits, from cost savings to providing an aesthetic to the place that blends with the design of the space. This is achieved with an additional texture of colours that are now available for casing and capping designs.
2.Telecommunication Sector:
In the mode of communication over telephone systems, such as those established by major state-owned firms such as BSNL and MTNL,
casing & capping for wiring
has for decades now offered a viable solution with a landline connection wiring reaching households and official buildings. With the advent of advanced and fast modes of communication, wiring for internet services has followed a similar pattern.
3.False Ceiling and Sleeving:
In false ceiling and sleeving types of construction, casing capping of wiring fits in seamlessly in the overhead and across the drilling done in sleeving structures for cables. In such layouts, the placement of casing wires provides a good and efficient working model for electricity supply.
4.LAN Cabling and Networking:
Casing and capping work perfectly well in wires now used for faster data transmission needs in modern times, ensuring optimal performance for the information highways envisaged while designing the networking models.
Advantages of Casing and Capping
• Casing and Capping removes the threat of electrical shock as the plastic insulation acts as a bad conductor of electricity.
• Cost-effectiveness of casing and capping of wiring as compared to conduit and sheathed methods and this adds to its attractiveness and wider usage across residential and office buildings.
• Customizations are easily manageable.
• Elements such as oil, steam, smoke, rain, etc. do not harm it.
• It is considered to be immune to the effects of smoke, dampness and humidity.
• Sturdy and durable properties of the product make it the first choice for installation as it lasts long.
• When the phase and neutral wires are put in separate slots, repairing becomes much easier.
How Casing and Capping Enhances Interior Design?
Interior design of a place overall and each and every room in a building has assumed importance over the years, with aesthetic value also considered on an equal footing with construction needs. Amidst all of this, the casing and capping of different types of wiring across different settings is a boon in terms of simply blending in, safety and adaptability to different environments.
Firstly, in terms of blending, casing and capping techniques are available in a wide variety of colours, which one can choose from depending on the paint on the walls and the design structure of the rooms. Depending on the needs of the consumers, contrasting colours with respect to the paint is also an option, which then adds to the vibrancy of the place. This seamless, and one might add complementary, fusion of casing and capping wires with the interiors makes them an even better proposition as compared to other methods of placing wires.
We have already touched on the safety aspect. On the adaptability front, casing capping across diverse places has made it a viable and effective solution to wiring needs.
Why TMT Plus?
TMT Plus is a pioneer in the industry of uPVC pipes. It has other products too, such as water tanks. But in terms of casing capping solutions, it started the business back in 1960, under a partnership, with wooden casing capping, among other products, to ensure the safety of electrical wiring.
In 2002, under the brand name Haryana Polymers, a manufacturing plant was set up for PVC pipes and this also produced casing and capping for wiring. Among the brands of casing capping manufacturers in India, TMT Plus has garnered a credible presence. The production capacity of the unit has increased over the years, and the company has continuously earned the goodwill of customers with its efficient designs and solutions.
In 2013, the company rebranded itself as TMT Polymers and has grown by leaps and bounds. TMT Plus places utmost importance on the safety of its casing and capping wires and conducts standard checks on each of its products before it is launched in the market.
And with decades of experience, it has brought innovation into its fold and, together with safety and reliability, has added aesthetic appeal to its casing capping of wiring. The collection of casing and capping in various sizes, shapes and colours, and catering to industries and household needs, has been the distinguishing feature of TMT Plus.
Conclusion
TMT Plus has a vast array of standard measurements for residential houses and institutional buildings across various sectors. One just needs to select the casing capping requirements as per their needs and it would be available at a market near them or it can now be ordered online too. Leave it to the experts at TMT Plus to get the exact and comprehensive casing capping wires for your space.