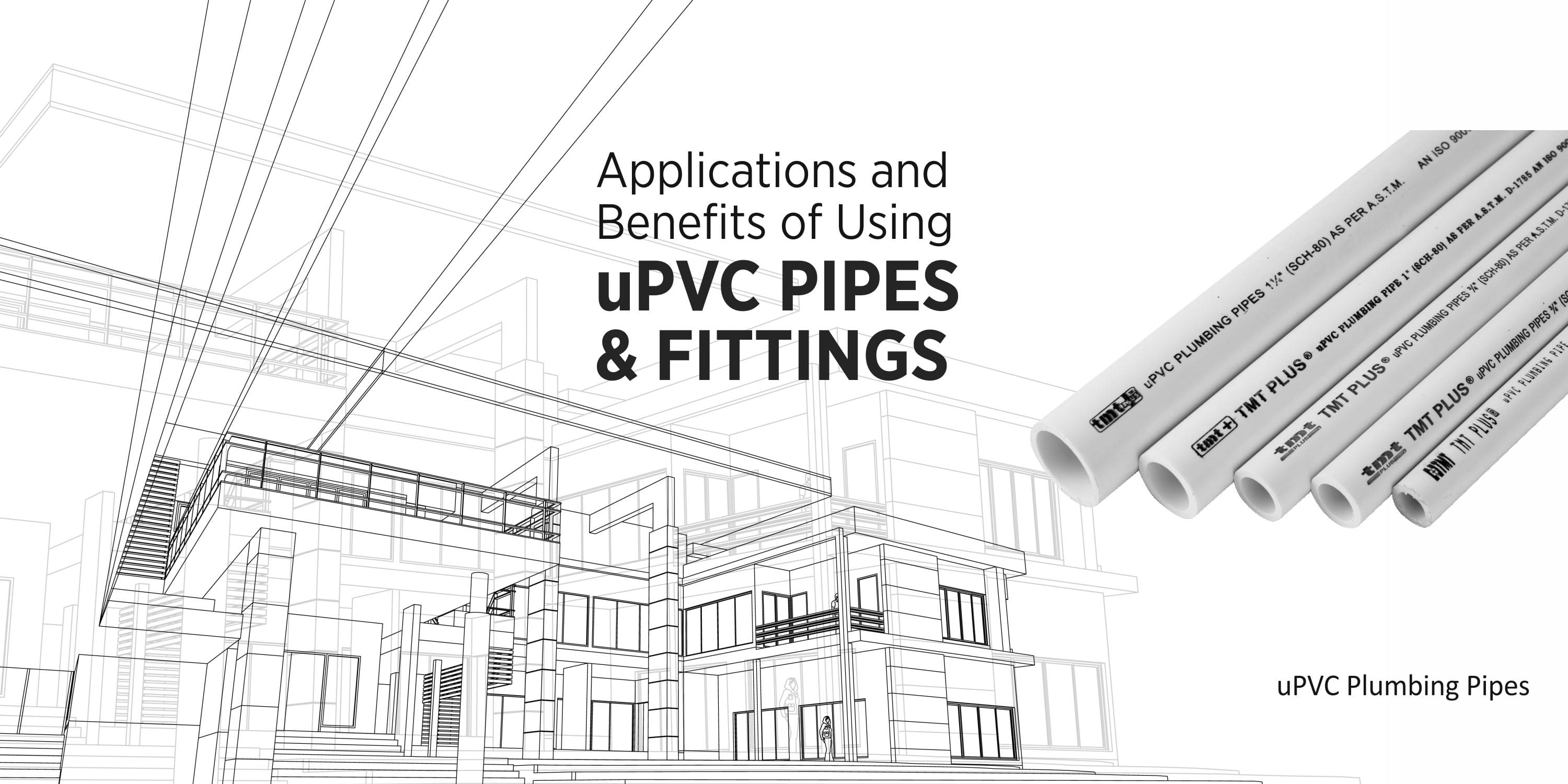 Without a question, pipes play a critical part in the comfort and convenience of any home or company. Even one poorly placed or a low-quality item may cause significant damage and long-term difficulties for homes or offices, as anybody who has dealt with leaks or mouldy walls knows. The easiest approach to keep your building free of leaks is to use high-quality UPVC pipes. Due to the cost-effectiveness and longevity of UPVC pipes, they have become the norm for plumbing across the globe.
PVC pipes are the most common name used in the plumbing industry for plastic pipes. There is another such name, yet not very familiar to the layman, UPVC pipes, which is quite different from the PVC pipes. Both of them are manufactured differently for different uses. UPVC Pipes and fittings are manufactured without using additional plasticizing pipes hence it gets a hard texture like cast-iron pipes.
As metal pipes are prone to react with several elements of nature, the UPVC pipeline system is installed to provide a solution for the cause. Here are a few reasons to support using Plumbing pipes & fittings suppliers in North India.
Applications of UPVC pipelines –
Irrigation, soil and waste drainage, electrical wire conduits, and industrial chemical transportation are just a few of the many applications for PVC pipes. In certain cases, PVC pipes are employed as water supply lines in buildings.
UPVC pipes are often used in sewage systems because they don't allow deposits to build within the pipe.
UPVC is a good choice for electrical installations since it is fire and combustion-resistant. UPVC pipes, on the other hand, are more secure because of this.
Ventilation in bathrooms is often accomplished using UPVC plumbing fittings and pipes.
Best uPVC pipes and fittings manufacturers in north india are used to satisfy plumbing requirements. These are also used for Tube work casting and raising mains for hand pumps also.
These are used in the chemical industries to transport chloride and various other chemicals.
These are also used in the washroom to dispose of corrosive gases.
These are used extensively for agricultural practices.
To manufacture sewer systems, uPVC SWR Drainage Pipe provider in Haryana, these pipes are used.
To prevent corrosion within the pipeline, the crude oil pipeline is made of UPVC.
For the manufacturing of PVC pipes and fittings, a PVC resin that has been combined with additives is used. Due to its low cost, lead has been utilised as a processing aid in the plumbing industry for many years. A global ban on the use of lead in the production of PVC piping used for drinking water has been implemented as a health hazard owing to lead leaching from pipes. Drainage pipes made of UPVC are used to cover drinking water supply lines and piping systems.

UPVC downpipes and tube well rising mains are additional common uses for these pipes. Since they are non-metallic and resistant to all forms of metallic corrosion, UPVC pipes are the best choice for discharge and sewage pipelines.
Benefits of UPVC pipelines
Stability and Longevity: The Best agricultural irrigation pipe fittings in North India offer excellent tensile and impact resistance. As a result, they are a long-term solution for all sorts of plumbing problems. They are flexible and bend well, making them perfect for handling during construction. It also helps in calamities such as earthquakes. UPVC pipes are also rustproof and UV resistant, making them very long-lasting when combined with their flexibility.
Toxic-free: The UPVC material is completely stable and non-reactive, with a temperature tolerance of up to 60°C. As a result, it's an excellent choice for transporting both consumable and non-consumable water. Metal pipes are much heavier than UPVC pipes. It's simple to handle, transport, and install because to its small weight.
Budget-friendly: Their little weight makes them easier to handle, transport, and install, lowering labour expenses. In addition, compared to metal, the material is far more cost-effective to manufacture.
Leak-resistant: UPVC pipes are available in a variety of lengths. This makes limiting the number of joints easy for construction workers. It reduces the likelihood of leaking to the base. Because the joint fittings are linked and sealed using solvent cement, no welding or metalwork is required.
Maximum Flow Inside: UPVC pipes have a smooth surface. This reduces internal friction and allows water to flow freely and quickly.
Tolerance to Flames
Unless an external ignition source is present, PVC Pipe will not continue to burn. The spontaneous igniting point is 450 degrees Celsius.
A wide range of benefits are available when using UPVC pipes by Best uPVC pipe brands in North India. They are not only less costly, but they also last longer than traditional pipeline materials. These pipes do not need a long installation or costly maintenance. As a result of their many benefits, UPVC pipes are preferred by industry professionals throughout the world.